Certificate Program in Leadership and Ethics
Pitt Business students can prepare for a career in business with hands-on experience in the complex nature of ethical leadership in today's business environment through the Certificate Program in Leadership and Ethics (CPLE).
As the only program of its kind in the country, the Pitt Business CPLE program offers undergraduate business students an integrated and sustained program of study of the relationship between leadership and ethics and is designed to strengthen the Bachelor of Science in Business Administration (BSBA) program at the College of Business Administration.
Pitt Business CPLE students receive meaningful and experience-based exposure to ethics and leadership in different organizational settings. The program curriculum is based on the assumption that an emphasis on leadership, without proper consideration of ethics, will not generate leaders who approach their roles with a sense of responsibility and accountability. By the same token, an emphasis on ethics, without proper consideration of leadership, will not produce leaders with the necessary tools to develop and implement their vision and understanding of ethics. Thus, leadership and ethics must be considered together.
The CPLE program teaches students the various models of leadership and helps them to develop the essential leadership skills of motivation, delegation, team-building, negotiation, and conflict resolution. Students learn to identify and process the vast range of competing organizational pressures so that they can handle complex situations and make responsible ethical decisions.
Key Competency Areas of the CPLE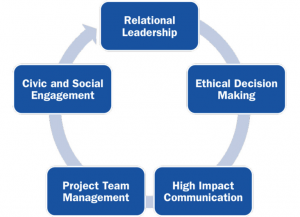 The CPLE program was developed by the David Berg Center for Ethics and Leadership at the University of Pittsburgh Joseph M. Katz Graduate School of Business and College of Business Administration. Established in 1999, the mission of the Berg Center is to add value to organizations through research, education, and impact in the areas of ethical leadership.