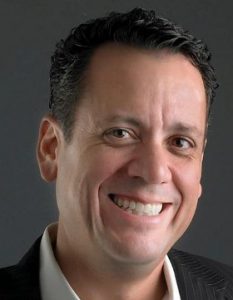 Andrew Hannah
Adjunct Professor and Executive/Entrepreneur-in-Residence
Andy's passions revolve around the intersection of innovation and advanced analytics. The applications of these passions are evident in his focus on new venture creation and helping students discover the joy of entrepreneurship and the massive potential power of data and advanced analytics (AI, ML, PA, etc.).
In 2014, Andy co-founded OThot – a Predictive and Prescriptive Analytics company that helps customers predict, understand, and change the future. OThot deploys a proprietary analytics process and leverages state-of-the-art data mining and analytics tools to develop and maintain managed analytics programs for its customers.
Also in 2014, Andy was appointed an Adjunct Professor of Entrepreneurship and Analytics and an Executive/Entrepreneur In Residence at Pitt Business. His primary responsibilities in these roles include developing and delivering curriculum at the intersection of analytics and entrepreneurship, mentoring students that are creating new ventures, fostering an entrepreneurial environment, and developing a concept for graduates to be leaders in the blossoming business analytics field.
Andy has been an entrepreneur since 1995.  His companies touched a range of industries including analytics, software, consulting, and materials science (a CMU spinout). He was directly involved in over $180 million of venture transactions and three of these companies were bought by industry leaders. Andy worked successfully with prominent venture firms such as Trident Capital, Advent International, Safeguard Scientific, Draper Triangle, and Birchmere. He has also raised funding from leading leverage buyout companies including Vestar and corporate VCs such as Samsung and Applied Materials.
Andy has been a keynote or guest speaker for the National Academy of Sciences, University of Pittsburgh's College of Business Administration commencement, Bayer Material Science Innovation Day, University of Pittsburgh (Pitt) Startup Weekend, the Pitt Big Idea Contest (twice,) and many others. The topics of his talks include innovation, new venture creation and growth, and international competitiveness. Andy has been a regular guest lecturer at CMU (where he was an Adjunct Professor of entrepreneurship) and Pitt.
Andy holds an MBA from the University of Pittsburgh with a concentration in Marketing and Finance and a B.S. in Accounting from Penn State. He began his professional career at Deloitte and in 2003 completed the Carnegie Mellon University Entrepreneurial Management Program.
Learn more about Andy at https://www.linkedin.com/in/andy-hannah-b32a48/
Entrepreneurship
Entrepreneur in Residence ("EIR"): Pitt Business EIRs focus on mentorship and development. If you have an idea or young business, we can help you think through critical issues and opportunities to help your business launch and grow. This mentorship does not stop when you graduate. For example, Andy is advising PeerCommerce, an exciting startup founded by two current Pitt Business undergraduate students.
Innovytics: Andy has created a program called Innovytics – entrepreneurship at the intersection of innovation and analytics.   With the generous support of alumni Mr. and Mrs. Kim Snyder, this PittBusiness program helps students develop entrepreneurial skillsets and create companies through the application of AI and advanced analytics.
ENACTUS: If social entrepreneurship is your focus, Pitt's ENACTUS chapter can help you serve your need to create new businesses that have a positive impact on our world. ENACTUS is a community of student, academic, and business leaders committed to using the power of entrepreneurial action to transform lives and shape a better more sustainable world
Living Learning Community ("LLC"): The Innovation and Entrepreneurship LLC functions like a think tank where students with diverse skill sets room together and receive a hands-on education in innovation and entrepreneurship.
Advanced Analytics
Applied Business Analytics Project Class for undergraduates:

Business Analytics is a leading competitive edge and  strategic initiative for many companies.   Organizations are establishing an office of the Chief Analytics Officer with the objective of using data and decision science techniques to drive strategic decisions and solve critical problems.  This class is an Experience-Based Learning (EBL) class that will give students a background in the application of analytic techniques, tools, and processes.  In addition, the thrust of the class will be focused on a hands-on application of business analytics through a partnership with a real client solving a problem or creating an opportunity.
The project is analogous to the team functioning as a part of a consulting firm advising the partner organization. To simulate reality, the student team will work significantly with the partner organization's personnel.  The student team will progress through business analytics assessment, problem definition, and application processes that will culminate in a report to the partner organization that the team should expect the partner organization to implement.

Business Analytics: Strategic Essentials for graduate students: This course explores how organizations use AI and advanced analytics to drive organizational strategy and set operational priorities.  The course is case/article- and conversation-based.  It is designed to explain how to frame the critical questions underlying the advanced analytics programs, measure the effectiveness of the models and clearly communicate the output to catalyze change.  We also confront the challenges of bias in data and models as well as the legal and ownership issues with data.  The ultimate objective of this course is for you to have a toolkit that you can refer to in your next role that will guide you in making changes to the organization through advanced analytics.
LEAP and Internships:

LEAP (the League of Emerging Analytics Professionals) is a student club that strives to cultivate data analytics expertise through professional development, education, and application. LEAP is Pitt's hub for data analytics.  LEAP strives to prepare students for the rapidly growing world of data analytics.
Through LEAP and PittBusiness, we help place students into internships that expand their experience and sills with analytics.
Want to talk Analytics, Entrepreneurship, Management Consulting or Analytics?  Email Andy at awhannah@pitt.edu.