Always Working Forward.
Arianna Choing
Graduation year: 2020
Major(s): Marketing
Company: Intel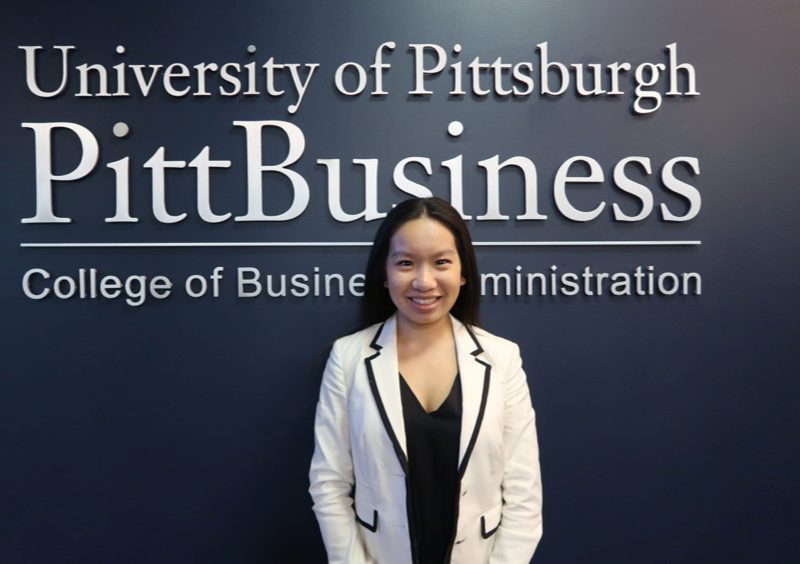 One of my fondest high school memories is learning from my mentor and lacrosse coach, Kathy Kelly.
Coach Kelly really emphasized development as a person and as an athlete. I leaned on her when choosing the right college for me. Coach Kelly and I went through tons of my questions. What kind of things should I be looking for in a school? What are the job placement rates? What if I didn't get my top choice? What would my options be?
Welcome to Pitt!
Firstly, I LOVED living in the dorms! The community experience was one of the best things about my first year at Pitt Business. Even if you don't choose the Pitt Business Living Learning Community, make sure you take advantage of the close knit bonds you'll make in that first year.
I decided to do a double degree in both Marketing and Psychology at Pitt. One of the great advantages of going to Pitt is all of the opportunities to mix and match your degrees to exactly the combination you want! And the best part is you can figure out how to make it all work in your schedule and graduate on time with the help of your academic advisor. Pitt Business is ranked #1 in the entire country in academic advising.
One of the parts of the student experience that Pitt Business emphasizes is getting involved outside of the classroom. Especially with student organizations. The two student organizations that really caught my attention were the Pitt Program Council and Delta Sigma Pi, a professional business fraternity. The Pitt Program Council is an on-campus student organization responsible for putting on all of the undergraduate events like Bigelow Bash and Fall Fest. They do a lot in terms of offering undergraduate students opportunities to get involved on campus. I was on the advertising and special events committee. It was a great opportunity to make new friends and professional connections. As my journey went along, I got more and more involved in Delta Sigma Pi, which I had joined my freshman year, eventually taking a leadership position in the fraternity.
My favorite class at Pitt Business was Consumer Behavior with Eugenia Wu. I really loved how her class was structured. It was more focused on real-world practical applications, like doing case studies, and less about lectures or reading textbooks. This course also perfectly connected my two majors – Marketing and Psychology ­– essentially into one.
Being a PDC
Currently, I'm working as a Professional Development Consultant (PDC) in the Pitt Business Career Development office. This position is a peer advisor where we help students with their resumes and cover letters, provide mentorship, and help coordinate undergraduate career development events. You have the opportunity to make a difference in students' lives as a PDC.
Seeing The World
Last semester, I studied abroad in Sydney, Australia. I've known since high school that I've wanted to see the world. The Study Abroad program in Pitt Business was the perfect opportunity to do that. Being able to study abroad was an important factor in my decision on which college to attend. Pitt Business' Study Abroad team provides many opportunities for students to travel to a variety of different locations.
In Sydney, I was taking three marketing electives and completed an internship. I was a media and communications intern at Cancer Council NSW, which is one of the largest health-related non-profit organizations in Australia. I was handling a lot of their public relations activities. I didn't have public relations experience entering into the internship, so I had to learn how to write proper press releases, articles, and other media spots. I would then take those pieces and pitch them to journalists in hopes that they would publish them in either their newspaper, blog, or social media. Much of the work I completed at Cancer Council NSW was published in various Australian news outlets. This was a difficult challenge for me but I grew so much as a marketer and was able to build my portfolio through this internship.
Traveling abroad takes you out of your comfort zone and into new experiences. It helps you really figure out who you are and who you want to be. I was completely independent while learning and working for four months, so it gave me an introduction to what life will be like after school.
Outside of work and school, I was able to travel a lot while in Australia. One of the places we went to was the Great Barrier Reef. I went snorkeling and scuba diving and it was incredible.

My Future is at Intel
During my senior year, Intel offered me a full-time position in California. Starting in August 2020, I'll move to California and work in Intel's Sales and Marketing Rotational Program. This is a two-year rotational program that consists of three, eight-month rotations in the Sales and Marketing Department at Intel. I don't know what the rotations are, but I'm excited to find out – and get to work!