This is the place for me.
Madeleine McElligott
Graduation year: 2022
Major(s): Marketing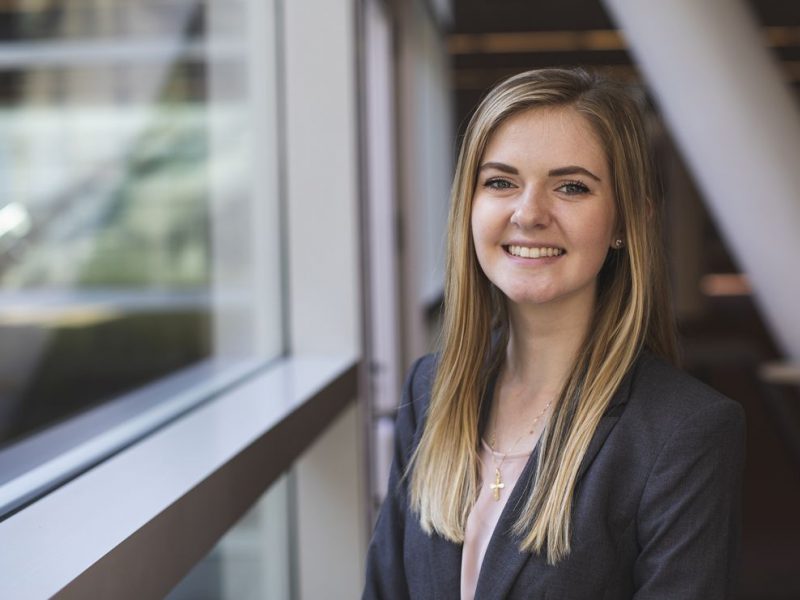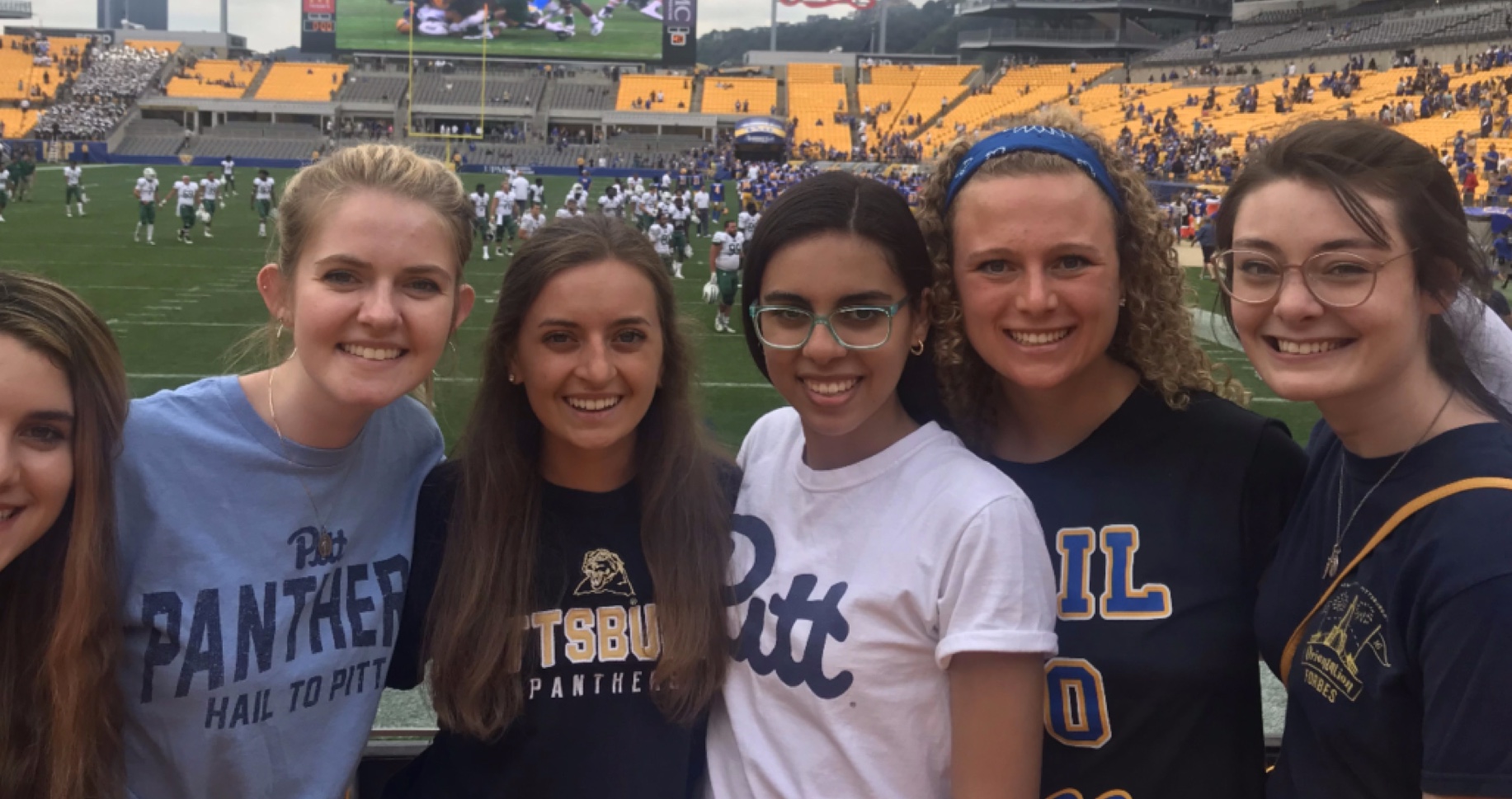 I needed a school that had it all.
Both my high school and college experiences are pretty unique. I grew up in the South Hills of Pittsburgh and was actually homeschooled throughout high school. I loved it because I was able to take charge of my education, grow in a great community, gain work experience and earn college credits through a dual enrollment program during my senior year.
I worked at a local restaurant and joined its marketing team when I was sixteen. It was super cool to get hands-on marketing experience, from assisting in event planning to social media strategy. I was hooked and knew from pretty early on that marketing is what I wanted to pursue in college.
I also knew that I would start at community college and transfer to a four-year university in my junior year. This was the lens I looked through when I was touring schools in high school. I not only considered the academic and student involvement aspects, but I wanted to make sure I would be able to transfer all my credits and not fall behind.
I needed a school that had it all- an academic standing, a great social scene, incredible career opportunities and resources for transfer students like myself. I found it all at Pitt Business. As soon as I toured the campus, even though I wouldn't be going there for another two years, I knew Pitt was the place for me.
Transferring to Pitt.
As mentioned before, I transferred from the Community College of Allegheny County (CCAC). I'm so thankful for my experience at CCAC. It was not only the smartest financial move for me, but I was able to get most of my general requirements out of the way and really flesh out what avenues I wanted to pursue in marketing. I also loved commuting- it was nice to start my days in the car with a podcast and a cup of coffee. If you're a high school senior looking at the possibility of community college or commuting from home, I know it can seem like you'll be missing out. Although the first two years in a dorm offer a great experience, you also get some really unique opportunities if you take a different route. Take advantage of them and don't discount the path you choose!
After acceptance, Pitt was extremely easy to transfer to. While I was at CCAC I made sure I had open communication with advisors at Pitt Business to ensure I was taking the right credits. I attended Transfer Days, kept my GPA up and talked with other people I knew who had transferred. Everything transferred without a hitch and I was ready to start junior year without any issues!
When I started taking classes, it just further confirmed Pitt was the place for me. I remember taking the class Consumer Behavior with Eugenia Wu my first semester here, and to this day I think it's one of my favorite courses! It gave an amazing insight into marketing and it was one of those classes where you know the information being taught will have a direct application in the "real world".
Consumer Behavior isn't the only class like that at Pitt Business, though! From Business Communication to Advertising and Sales Promotion, the classes truly do prepare you for your future career.
Especially as a transfer student, getting involved in organizations on campus was so important to me. I knew that I wanted a strong community of friends with similar interests and I found them through student orgs! There's no better way to get involved on campus, contribute to something you care about or gain leadership experience than joining a student organization.
As far as business organizations go, I can't recommend joining the American Marketing Association enough! Not only is it a great group of people, but the professional development and leadership opportunities it offers are fantastic. If you're a marketing major, definitely check it out!
I also served as the Business Manager for Choose Life at Pitt. Although this isn't a Pitt Business organization, it's a cause I'm very passionate about and it gave me the opportunity to help women in the Pittsburgh community through my business skills. One of my favorite experiences with this club is visiting Sojourner House, a home for moms recovering from substance abuse and their children. Pittsburgh really has so many resources for women in crisis situations and it was humbling to contribute to them through the service events this club offered!
Plus 3 Ireland
I was able to go to Dublin on the Plus3 Ireland study abroad trip. It was probably my favorite experiences here at Pitt! Dublin has become a tech hub, so we got to visit the European headquarters of Google and Workday, as well as the Irish offices of Microsoft and Eaton.
Since I only had two years at Pitt, I knew that I didn't want to take a whole semester abroad. The Plus3 trip was absolutely perfect. I was able to gain global business experience, learn about the history of Ireland and met some amazing people along the way. The study abroad office was amazing to work with. When it came to housing and flights, I didn't have to worry about one thing. I also received a $1,000 scholarship to help with the cost of the trip!
Internship Advice

Internships are so important, especially in finding out what you like and what you don't. Even if you don't have a formal internship, volunteer your skills or see if you can job shadow someone in the field. Absolutely nothing replaces hands-on experience, so gain some whenever you have the opportunity- even if you have to make it yourself!
Meade Johnson is a great resource for marketing majors. I met with her about once a semester and we were able to flesh out my career interests and goals. She helped me evaluate what I liked about past internships and gave me some resources to find new ones. Now that I'm graduating, Meade has been a great resource in my job search.
Marketing is a great field because it's very versatile and there are so many career opportunities. Whether you want to do advertising, PR, digital, sales, analytics, or a variety of other specialties, you will be able to find your niche.
Moving Forward
I'm glad to say that, looking back on my college experience, there is not a whole lot I would change. My two years at CCAC taught me a lot about being patient and content where you are, and Pitt has taught me so much about taking advantage of opportunities and the importance of communities.
If you're a high school senior looking at colleges, the biggest piece of advice I have is to follow your gut and do what's best for you. Don't be pressured into the "typical" college experience- if you feel like you should take a different path, do it! Pitt Business will always be here when it's your time.