Dreaming of living and learning at Pitt
Rachel Hannum
Graduation year: 2022
Major(s): Marketing, Supply Chain Management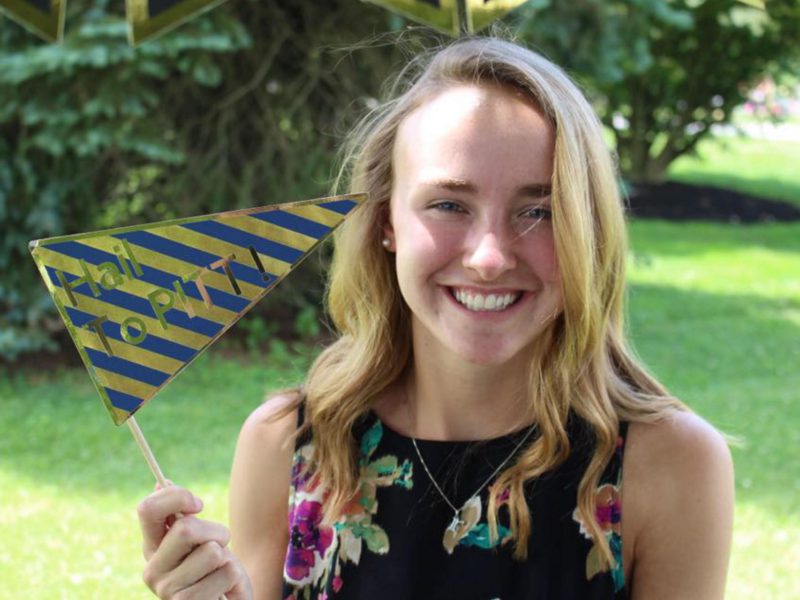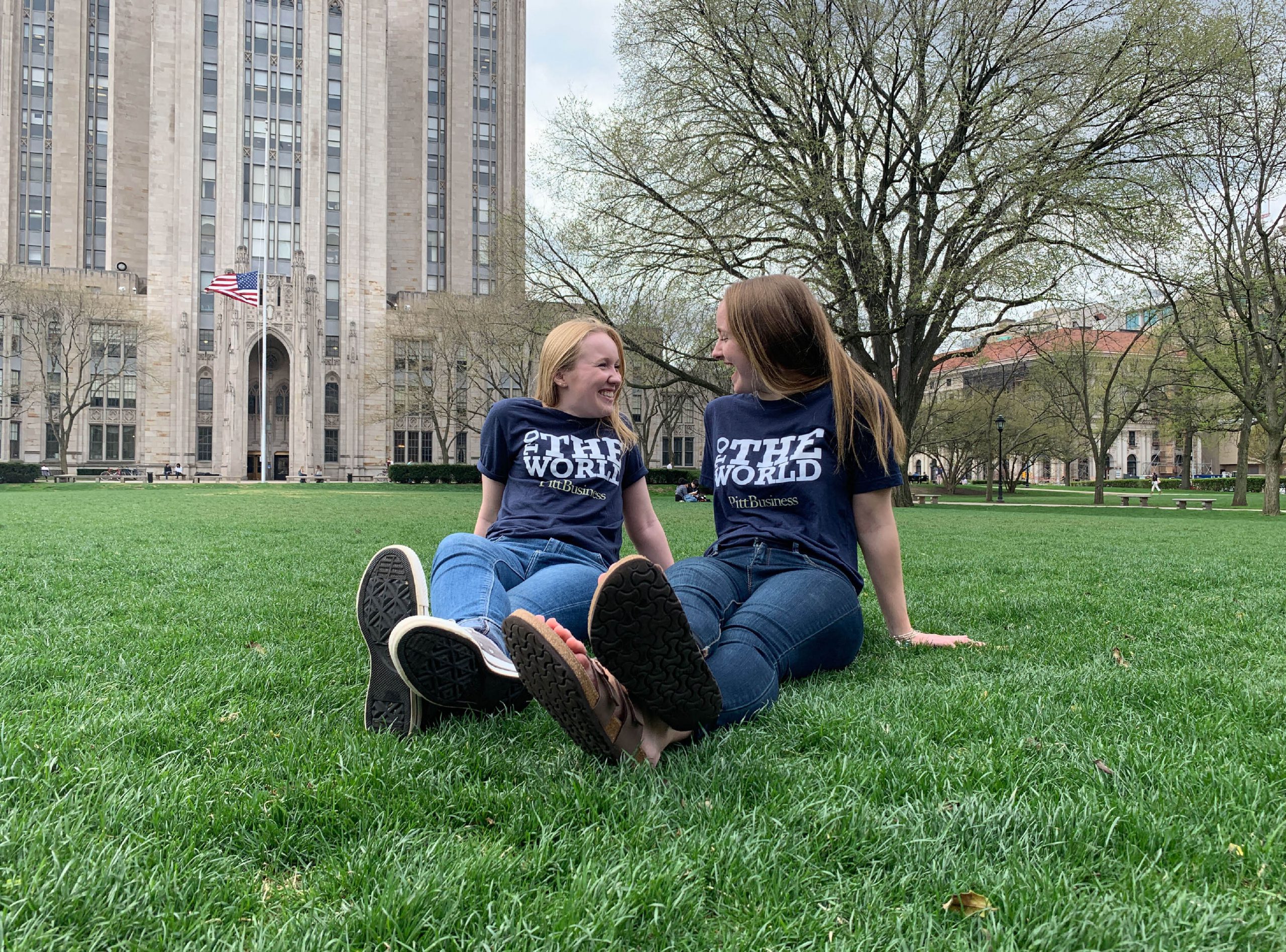 In search of a big city.

I grew up in a small, close-knit town in southeastern Pennsylvania called Oxford. In high school, my teachers and coaches continuously offered support and pushed me out of my comfort zone. My high school experience was also heavily shaped by my involvement in field hockey and Future Business Leaders of America, where my team and I qualified for the National Leadership Conference my senior year. But as my final year ended, I had a decision to make: Pitt or Penn State? I adored growing up in a small town, but I had always dreamed of living and learning in a city, so I decided on Pitt. The hustle and bustle of Pittsburgh has been the perfect complement to quiet Oxford, and I am thankful to feel at home in each of these places.
Calling Pitt Business Home.
I came to Pitt undecided in the Dietrich School of Arts and Sciences, exploring a variety of classes and career development resources. It took me some time until I felt confident in my decision to transfer into Pitt Business. Part of my decision was joining the American Marketing Association (AMA), a professional development organization where you have the opportunity to learn, network, and socialize. I was interested in marketing as a major when I joined, but found much more in the best friends and opportunities it gave me. In my first year, I was elected by my peers to serve on the executive board as Vice President of Communications. I applied to transfer into Pitt Business and was thrilled to begin business classes during the fall of my sophomore year!
So much has happened since I initially joined AMA. After serving as VP of Communications, leading a committee to manage Pitt AMA's social media, I was elected VP of Consulting. I led our student-run consulting agency, Key Creations, which provides marketing expertise to local businesses and student organizations, helping organizations like Wings Over Pittsburgh and Food Recovery Heroes while providing students hands-on experience. I even had the opportunity to attend the AMA International Collegiate Conference in New Orleans two years in a row where I met students from AMA chapters all over the country. Now that my term serving as VP of Consulting has ended, I am thrilled to have been elected as the President of Pitt AMA for the 2020-21 school year.
Since transitioning into the business school, I met people like my academic advisor, Kevin Riley, who is an incredible resource. With Kevin's guidance, I decided to enroll in the Pitt Business Honors Program which offers an enriched curriculum of honors seminars and an experience-based capstone. The first seminar that I took was the honors section of Professor Kiersten Maryott's Introduction to Marketing where I got to write a strategic marketing plan for a new good or service. My best friend of nearly 15 years and I had always dreamed of opening a hybrid coffee shop/hair salon, and I finally got to formalize the idea within this project. This was, and still is, one of my favorite projects that I have gotten to work on at Pitt.
Through this project and Professor Maryott's advisor role of Pitt AMA, she quickly became one of the most influential individuals during my time at Pitt along with Professor Nicole Cade, Professor Ray Jones, and Allie Zalar from the career development team. I am forever indebted to Pitt Business for allowing me to cross paths with such extraordinary individuals.
The experience of a lifetime.
When deciding to study abroad, I was split between studying global supply chains and manufacturing culture in Uruguay and the Pitt in Amsterdam program which focused on sustainability in cities. I was weighing the benefits of the credits and invaluable insights into my other major, Supply Chain Management, with the research component of the Amsterdam program. Ultimately, I chose Uruguay because I realized that Uruguay was a particularly unique place to study abroad. It's one of the many hidden gems where Pitt offers study abroad opportunities that I probably would never have traveled to otherwise. Additionally, as it was a 3-week "Maymester" program, which allowed me to ease myself into international travel for the first time, immerse myself in the culture, and connect with the people yet still come home in time for my summer internship.
The time I spent in Uruguay was a whirlwind, to say the least. Our hosts at the University of Montevideo showed us their beautiful country and we took trips to Colonia del Sacramento and Punta del Este, two incredible cities two hours from where we were staying in Montevideo. The Global Supply Networks and Manufacturing Culture class was comprised of Pitt and Uruguayan students, as well as others from all over the world. And, we had classes with University of Montevideo professors, as well as site visits to El Pais (the largest newspaper plant in the country), the Port of Montevideo, and Darnel (a packaging company).
Through this experience, I was able to step outside of my comfort zone and ultimately have one of the most defining experiences during my time at Pitt.
Interning in Supply Chain and Marketing
Although I had found multiple avenues to develop my marketing skills, I realized I hadn't done the same for supply chain. I came across Clark Associates, a foodservice company in Lancaster, PA, which had an established internship program with numerous supply chain internships. I eagerly applied and was thrilled to receive an offer to work as a Procurement Intern. Not only was I immersed in the department of procurement, but I was always being exposed to other divisions of the company through shadowing opportunities and intern events. I cannot thank my bosses, Jack Kupsky and Stefany Hoover, enough for making that experience as extraordinary as it was. And I am excited to be returning to Clark Associates as a National Accounts Intern for the summer of 2020!
After finishing my procurement internship, I began interning with Pitt Athletics junior year. Although I had the opportunity to work and learn about the execution of each and every one of Pitt's sports, I was specifically assigned to work with Pitt Wrestling. Alongside my boss, Joe Lassi, we prepared marketing collateral, music, promotions, and giveaways for all Pitt Wrestling matches. We also had the opportunity to host the Wrestling ACC Championships at the Peterson Events Center, and to see so many people come together to execute this massive event was an amazing end to the season.
I've had so many amazing experiences.

Although my fourth year at Pitt lies ahead, I cannot help but look back at the past three and be amazed by all of the opportunities and experiences I have had. My biggest piece of advice to incoming students would be to diversify your experiences as much as possible. Say yes to everything, step out of your comfort zone, and keep an open mind. Pitt has so much to offer and you have four whole years to take advantage of that.