With over 30 years in the accounting profession, Terri Bone brings her leadership and financial expertise to Pitt Business as the Executive in Residence of Accounting. During her time at EQT Corporation, Terri was responsible for many innovations that enhanced the company's growth such as transforming EQT into three NYSE traded companies and raising over $6 billion in investor and financial capital. Terri's continued growth in the accounting practice now extends into cybersecurity and financial fraud, among many other subjects. I spoke with Terri about the present state of careers in accounting and how accounting students in Pitt Business can find the right job in the right placed at the right time. To explore more of Terri's incredible background, please visit her EIR profile.
Finding an Internship
"For accounting and finance majors it's easy to find an internship. Right now, there are a lot of appealing accounting and finance internships available. Pittsburgh employers have figured out that the strong students are getting tied up earlier, so I'm seeing posted opportunities earlier then I've seen in prior years. I tell the sophomores that job postings in August through November tend to be really focused on seniors and juniors. But then in November through April, there will be more and more openings that sophomores are eligible to apply for. I try to get them started now and then just persist until they lock something up. Honestly, anybody that I've had started at this time of year gets something by February or March. And then I have students who don't think about it, don't get to it come in until March and find some before they leave here in April."
Where To Start Your Career
"Students should pick the city they are interested in working in because there are accounting and finance opportunities everywhere. There are so many opportunities available on Handshake. Those employers are particularly looking for Pitt students. So our students have many really great opportunities and less competition for them. All businesses have an accounting function. You can find experience practically anywhere – so ask around! Depending on who you are talking to, try to structure your comment in a way that resonates with them. It doesn't matter if it's a church or a school or a barbershop, everyone has an accounting function."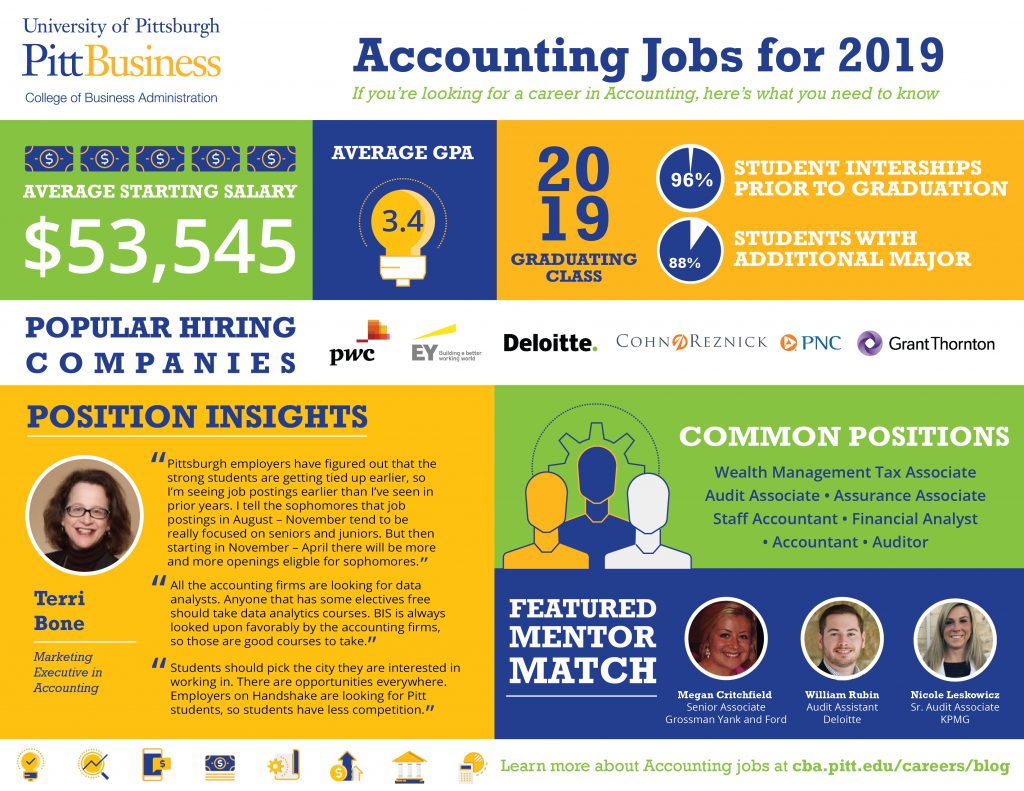 CLICK HERE TO VIEW IN FULL-SIZE
Tax Season Internships
"There are pros and cons for taking a tax season internship. If a student is going to take a tax season internship they need to realize those are going to be hours they have to put in and work hard. Schoolwork will have to be done at other hours of the week. The student needs to be organized. They need to have a manageable course load in order to take a busy tax season internship. The other thing that is important to know is, busy tax season jobs are very specific to filling out forms and cleaning tax returns, especially for small firms. Those jobs are not very similar to the big four audit jobs. If you take a tax season internship don't think you have a good picture of what a big four career looks like because it's not similar at all. We've had a lot of students take those tax season internships and say they hate it. A professional career in the big four audit practice will be vastly different. I worry about students getting the wrong impression about what a big four career looks like. This means that you need to be clear about what you are looking for."
Requesting Experience Opportunities From Your Employer
"Often I'll have freshmen come in who say they are going back to their regular summer jobs after the spring semester is finished. I tell these students to go talk to their manager about whether or not you could spend a week or spend one day a week in the business office of that organization. Because all of those businesses have an accounting department, and they're probably shorthanded or have plenty of work to do. If you are a dedicated employee who has been working for any of those services for two + years and they know you and they rely on you and like you…they're going to be quite likely to let you go work in the business offices. Then when you come back in August, you can put that on your resume that you've had an internship. You can take that job where you're comfortable and making good money and turn that into a business internship. Same thing if someone in your family has a small business."
Continuing Education
"All the accounting firms are looking for data analysts. Anyone that has some electives free should take data analytics courses. BIS is always looked upon favorably by the accounting firms, so those are good courses to take. I do tell students to look over at Katz and try to take another tax class. So, our undergraduate business curriculum only has one tax class that is an individual tax class, but the CPA exam includes corporate tax, and there is a corporate tax class over in the graduate school that undergraduates can enroll. In particular, senior accounting students who are thinking of the master's program or getting ready to graduate and take the CPA exam really need to get that corporate tax information and if you don't take it in a class you have to get it in a review course which you have to pay for."
As I said, Terri is full of wisdom, knowledge, and experience. Schedule an appointment with Terri Bone on Handshake if you'd like to get more career development guidance like the advice she gave above. You can also further develop your accounting skills by checking out LinkedIn Learning for unique courses and programming.