Technology evolves at what feels like blinding speeds. It can be hard to catch up to all the app updates, new devices, or service upgrades. If you've experienced this challenge with your personal phone or laptop, imagine what that shift looks like for enterprise-level technologies in some of the largest companies in the world. When technology works correctly and efficiently, it makes our lives easier and enables businesses to thrive. Students who major in Business Information Systems (BIS) at Pitt Business are shaping the future of the technology that you and businesses around the world use daily. BIS majors develop and evaluate new technologies, use data to solve complex technological challenges, create efficient models and processes for technology integration, and more. As technology evolves and becomes more complex, the demand for BIS professionals will continue to grow.
Denise Desimone is a Pitt Business Executive in Residence who specializes in technology and consulting who offers the following insights on how to create a thriving career in BIS when starting out as an entry-level candidate:
Entry-Level Positions, and Careers in BIS
"Entry-level BIS positions are typically going to be data analytics roles. A data analyst would be required to evaluate data, develop solutions to unique company problems, and present their data-supported solutions to decision-makers that depend on their work. In terms of career growth, a lot of people move into higher-end data analysis and consulting."
"I suggest to students that want to get into data analytics to understand that it also includes marketing analytics, traffic analytics, and social media analytics. There are many different types of data analytics to specialize in. There's a whole world out there."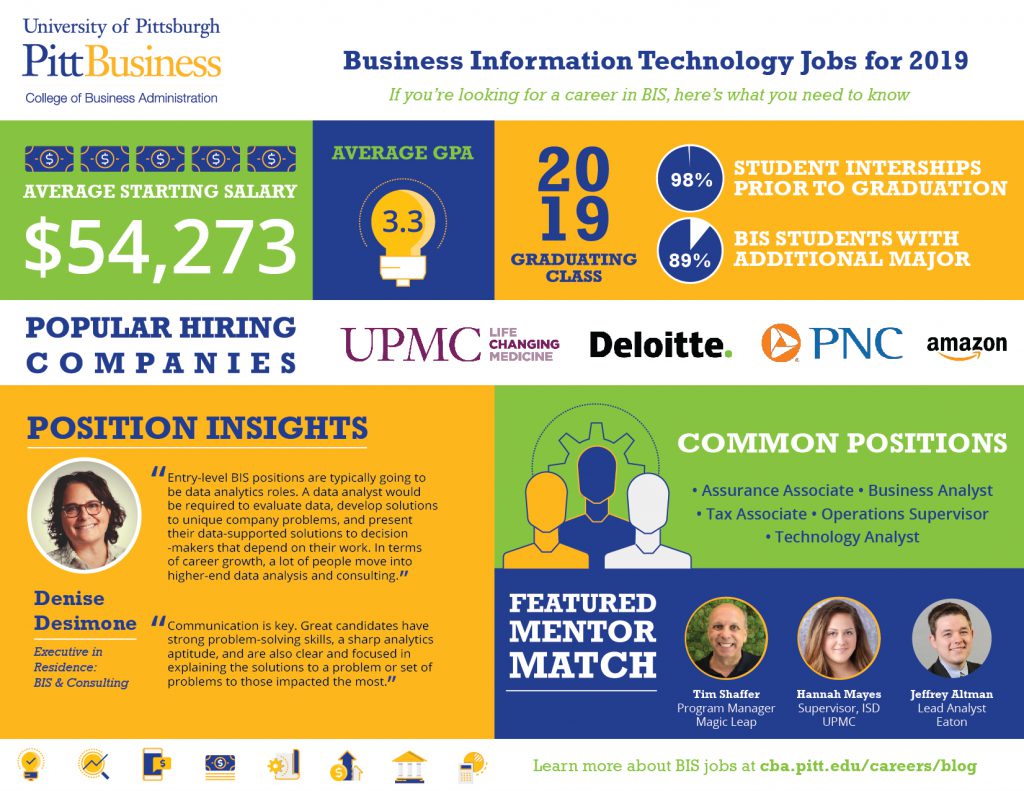 Communication
"One of the most important aspects of BIS work is how you effectively and clearly you present the data you use to propose solutions to complex challenges. It's important that the entry-level candidate has a clear understanding of how they are going to manipulate charts and graphs, to explain their findings both visually and contextually."
"Communication is key. Great candidates have strong problem-solving skills, a sharp analytics aptitude, and are also clear and focused on explaining the solutions to a problem or set of problems to those impacted the most. "
Compatible Major/Minor of Study
"A good major or minor to pair with BIS is professional writing. You can solve the hardest problem and the data to support your solution, but if you can't explain to people what that solution is then you've wasted your time – and others. In the most recent graduating class, 98.9% of BIS students had internships prior to graduation and 89% paired their BIS major with an additional major…so consider pairing a compatible major or minor to your BIS course of study." 
Check out LinkedIn Learning to polish your Excel skills, learn new presentation techniques, and discover new apps to use in your BIS career. If you're interested in learning more about the industry, schedule an appointment with Denise on Handshake.