Meade Johnson is the Marketing Executive in Residence at Pitt Business and has a career that spans over 25 years working in account management. She has worked at agencies such as Marsteller, MARC Advertising, Blattner Brunner, and GBL Advertising. She has also led communications strategies, research services, and creative development on accounts such as DICK's Sporting Goods, Philips Respironics, Pittsburgh Public Schools, UPMC, PPG, and the New York Philharmonic. Meade's immersive wealth of experience helps her transform Pitt Business students into the marketers of tomorrow.
I had a chance to sit with Meade in the Tafel Center for Student Success to discuss advice she would give to current marketing students in Pitt Business.
"Change is a big part of marketing. It seemingly changes every day. If you are going to be in the business you need to be ready for change, you have to enjoy change. Change has to be something that you're really good at, that stimulates you. Because marketing is not a day in, day out kind of thing. Great marketers need to have a willingness to learn what is coming next, not just in marketing, but in disciplines and industries that affect marketing, like communications. Communications is intensely affected by advances in technology. As technology changes communication, marketers have to learn how to adapt and explore new platforms – to understand how they can work in the service of a client or brand. A great marketing professional leans into exploration and the changes that come with it."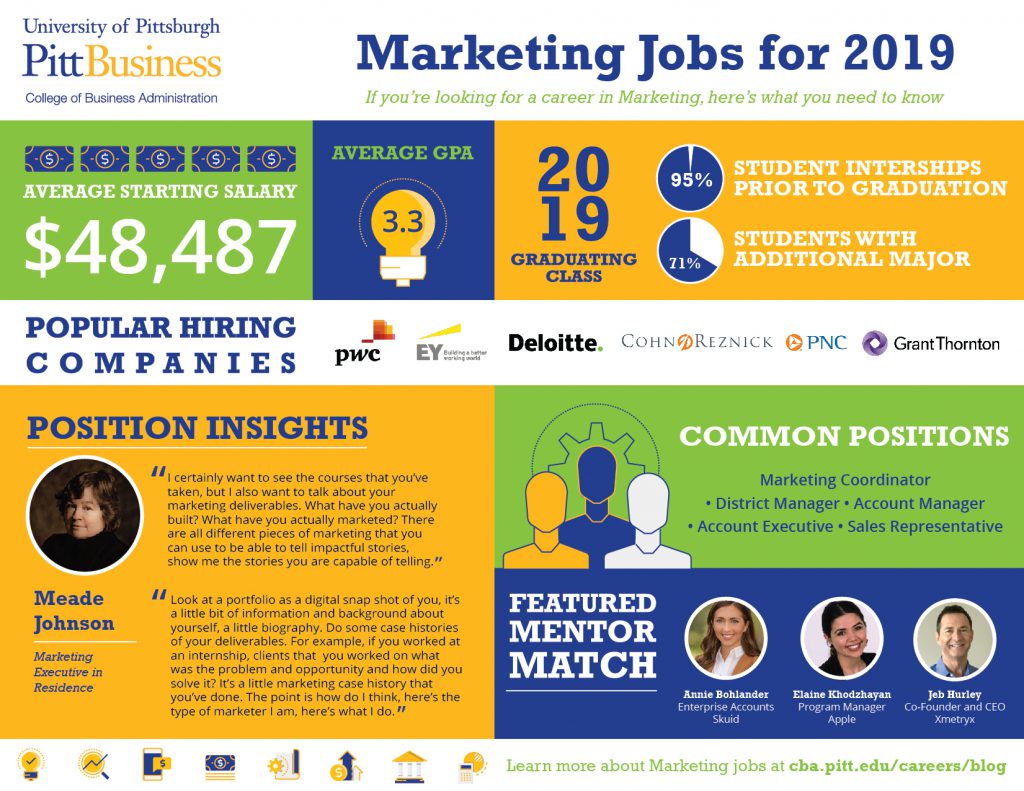 CLICK HERE TO VIEW IN FULL-SIZE
Individual marketers must evolve and adapt to change, but so too must the companies they work for. With a wide spectrum of companies to work at, where does a newly graduated marketer with cutting-edge training look for employment? Here are a few options: marketing agencies that specialize in advertising or digital media, in-house marketing departments for sports teams, large banking institutions, or higher education institutions, among many, many others. To develop an exciting and diverse marketing career, Meade suggests first developing a diverse and adaptable skillset, then utilizing one's network.
"When I interview you, I certainly want to see the courses that you've taken…but I also want to talk about your marketing deliverables. What have you actually built? What have you actually marketed? What have you actually created? Those are the kinds of things whether you are the membership chair for your club or whether you had run for homecoming king and built a campaign for yourself or whether you rebranded your acapella group – whatever it is – there are all different pieces of marketing that you actually do and to be able to tell those stories."
"Let your network work for you. The size and quality of your network will give you the biggest advantage in breaking into the marketing field with the top employers."
"Look at a portfolio as a digital snapshot of you. It's a little bit of information and background about yourself, a little biography. Do some case histories of your deliverables. For example, if you worked at an internship, detail what clients you worked and what was their problem and how did you solve it? The main point of this is how you think and solve problems. Here's the type of marketer I am, here's what I do – and how my education and experience will fill the gap in your marketing team. My advice is to just relax and enjoy the search, you are marketing yourself to people who are looking for you like a product – it should be fun. "
In the final part of our discussion, Meade identified that communications, multimedia technology, and creative/professional writing disciplines will pair well with marketing. Experience in some or all of these complementary disciplines will help create a more well-rounded marketing portfolio. To learn more about portfolio development and to expand your skill base, check out LinkedIn Learning, Professional Sales Academy, and the Digital Marketing Institute. To learn more about which direction to take your marketing career, schedule an appointment with Meade Johnson on Handshake.