The world of Supply Chain Management (SCM) covers everything related to a business – and it is constantly evolving.  This is an observation that John Houston, our SCM Executive in Residence, knows all too well. According to John, a supply chain is a vast and intricately layered concept that empowers manufacturing, fulfillment, logistics, strategic planning, and more. Professionals in SCM design, plan, execute, control, and monitor the complex processes of getting a product or service into a customer's hands. Whether it's working with the challenges of logistics and transportation companies like FedEx or DHL delivering your packages by land, sea, and air or Amazon flying a delivery drone to your front door, he's seen it all.
Most importantly, though, John knows that as technology grows so too must a talented and available workforce.
I asked John to explain how to navigate careers in SCM and how to stand apart from the crowd in an otherwise competitive environment. When asked what's the best entry point to a career in SCM, John suggests exploring logistics and operations management.
"Logistics and operations management are two of the primary entry-points into SCM careers. You get to see and experience some of the work other roles take on. It makes the rest of the roles within the SCM world easier to understand. It's the best on the job training an entry-level candidate could experience."
Additionally, John shed some light on how to position your career in the SCM field, but stressed that there isn't just one single direction to take:
"Most students look at logistics like FedEx and DHL that have a lot of openings in warehousing, transportation management, even SAP roles. I think students will start in those areas and quickly find other roles in the chain. Getting more experience in the handoff of products to the customer to evolving into more complex interactions is typically the next step. As the candidate gets more and more experience they can become managers or leaders or subject matter experts of logistic, procurement, etc. The easiest and best thing about Supply Chain is that there are so many available jobs. The hard part is which can be a specific career focus because there are so many focal points to choose from."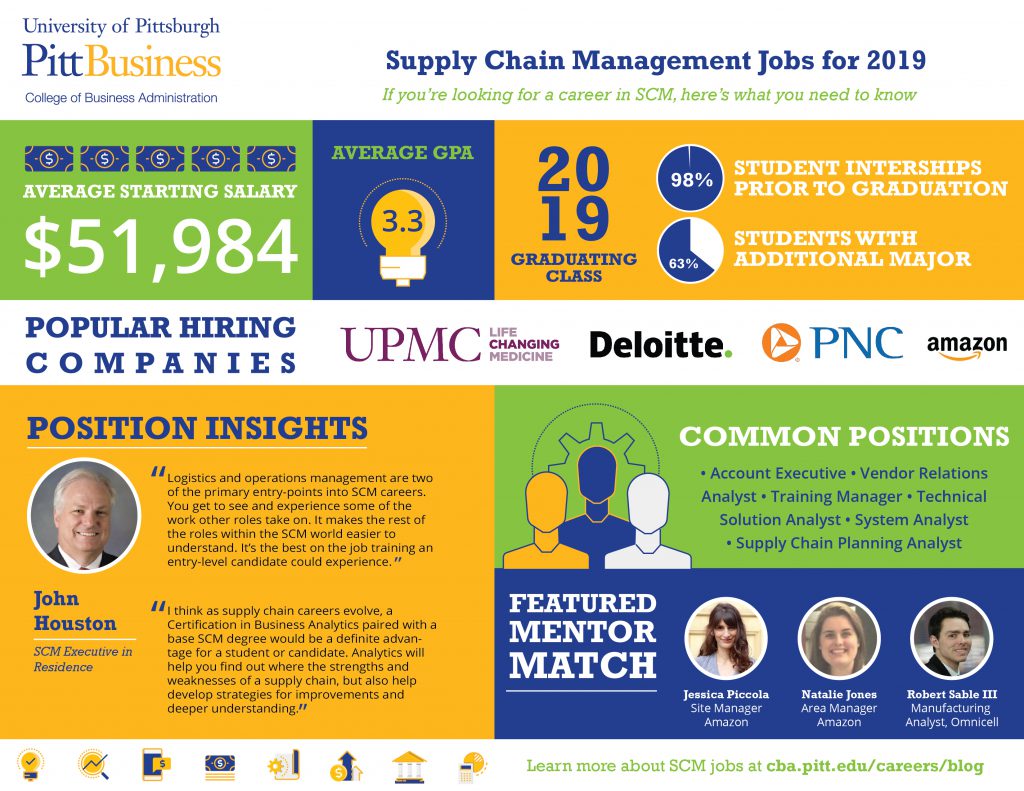 CLICK HERE TO SEE IMAGE IN FULL-SIZE
Students at Pitt Business have so many opportunities to grow their education in SCM, making them even more prepared to enter the SCM world. John agrees and suggests that the Certification in Business Analytics will give them the tools they need.
"I think as supply chain careers evolve, a Certification in Business Analytics paired with a base SCM degree would be a definite advantage for a student or candidate. Analytics will help you find out where the strengths and weaknesses of a supply chain are, but also help develop strategies for improvements and deeper understanding. "
Developing your skills in data analysis by pairing your current classes with LinkedIn Learning and a Certificate in Business Analytics will prepare you for a long career in Supply Chain Management. To learn more about which direction to take your career, schedule an appointment with John Houston on Handshake.