As part of the #ToTheCity series, students have the opportunity to sign up for several site visits to companies in Pittsburgh throughout the semester. This week, our students had the opportunity to visit PPG Paints, in the heart of downtown Pittsburgh, and even got a peek at the CEO Suite on the 40th floor!
The #ToTheCity series is designed to take students outside of the classroom to explore different industries and companies while networking with their peers and alumni in new settings. Registering for a company site visit can open up new doors and opportunities that weren't possible before!
"I signed up for the site visit because I thought it would be a great opportunity to explore companies in Pittsburgh! Specifically, I was interested in PPG because I always knew they were a paint company, but I wanted to learn more about what they do for the city and the world," said marketing student, Victoria Pizzuto.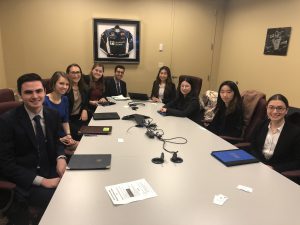 After our arrival to 1 PPG Place at 10:00 sharp, we joined Pitt Business alum, Jonathon Wolak, Global Finance Director – Packaging Coating, and Kevin Wozniak, Global Finance Director – Specialty Coatings and Materials, upstairs. Our students learned more about their backgrounds, all about PPG and what's next for the company.
With a wide range of majors including Accounting, Supply Chain Management and Finance, our students had plenty of questions for the PPG team. Additionally, students were able to meet Kevin Braun, Vice President of Global Industrial Coatings, to learn the ins and outs of PPG. Students and Directors exchanged business cards and had some time to network while exploring the 40th-floor view.
Register now for the next #ToTheCity company site visit to ABARTA Coca Cola Beverages on Handshake and continue to check in on our Career Blog.