League of Emerging Analytics Professionals Hosts Data Analytics Conference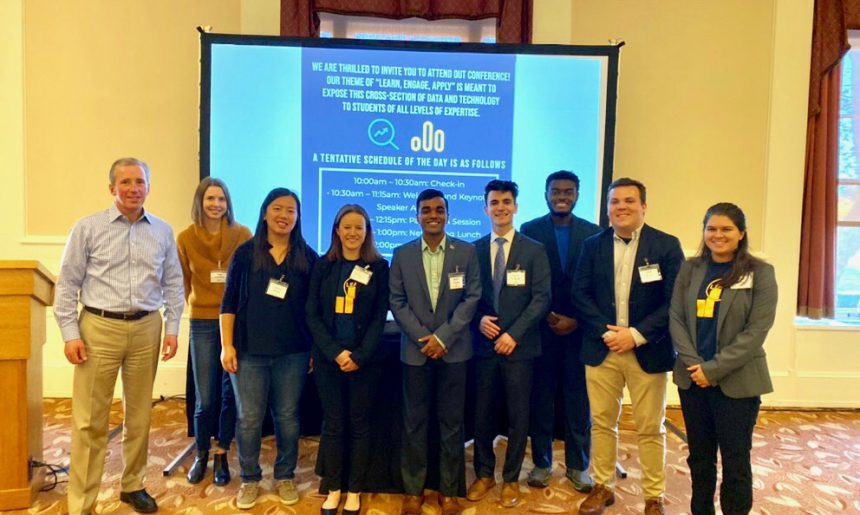 The League of Emerging Analytics Professionals (LEAP), a University of Pittsburgh College of Business Administration student organization, hosted the Marketing Analytics: The Future of Business conference in November. The conference provided discussion and insight into the fast-paced world of data analytics, alongside networking opportunities for business students. Attendees were able to hear from industry experts about how to leverage data to impact business decisions.
"Conferences and events like these expose students to professional experiences," says Anthony Rodi, Interim Associate Dean. "Hearing from and networking with industry professionals allows them to take what they learn in the classroom and apply it to the context of real-world situations."
Panelists included Kevin O'Connell, chief marketing officer at Eat'n Park and Gloria Zhang, Jr., data analyst at Level Agency, with a keynote speech by Erin Gustafson, a senior data scientist at Duolingo.
Both O'Connell and Zhang imparted wisdom on the importance of data as a way to find your business's competitive advantage, creating a story from your data while being mindful of confirmation bias, and how critical it is to have a healthy skepticism about your own ideas.
"I think of data analytics as the 'search for the truth' – you need to constantly question if what the data is telling you is true—and test that," said O'Connell.
Gustafson focused on the soft skills that come along with data science and thriving in your career.
"Imposter syndrome is real – but admitting that you don't know everything or don't understand something, is the first step to learning," said Gustafson. "Find a mentor, ask questions, and collaborate."
Learn more about LEAP at cba.pitt.edu/student-life/student-organizations/.