Headed into her senior year, Teresa Leatherow was like many of her peers. She was interested in a specific industry — consulting — and needed guidance to sharpen her search and build confidence.
So Leatherow (Supply Chain Management & Business Information Systems) signed up for the Pitt Business Mentoring Match program. The online platform, open exclusively to students in the University of Pittsburgh College of Business Administration, allows students to effortlessly connect with alumni volunteers based on mutual career interests.
After a quick search of the alumni in the system, Leatherow she saw a name that interested her. Robert Grossic (BSBA '08) was the director of Medicaid Strategy and Performance Management at Highmark Inc., one of the nation's largest healthcare organizations.
So Leatherow took a chance. She put in a request to connect.
Almost instantly, Grossic replied. Her student-to-alumni match was accepted. Leatherow gained a powerful career ally who answered questions, provided advice, and opened doors.
Grossic coached Leatherow on the consulting industry and helped her prepare for interviews. Eventually, it so happened that an opportunity came up at Highmark for the company's prestigious Leadership Acceleration program.
Emboldened, Leatherow applied. She was accepted by Highmark and will start the program after graduation in April 2019.
"My mentor, Bob, was instrumental in sparking my interest in healthcare and how technology and consulting fit into this space. He answered all my questions, all while maintaining an openness to whatever direction I ultimately decided upon for my career," Leatherow says.
Without Mentoring Match, Leatherow likely wouldn't be headed to Highmark. Nor would she have gained a valuable professional contact in Grossic.
"The program helped me discover a new career pathway and ad passion that ended up being the best for the type of young professional that I hope to become," Leatherow says.
An Easy, Powerful System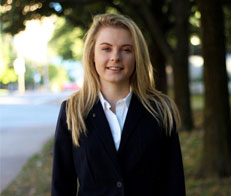 The Pitt Business Mentoring Match program has more than 600 alumni volunteers — and is growing every day.
"Ease of use is one of the most distinguishing features of Mentoring Match. It was designed to be as intuitive and as fun to use as possible, since we know our students already have many other time commitments," says Audrey J. Murrell, associate dean of Pitt Business and director of the David Berg Center for Ethics and Leadership.
Pitt Business students can find matches in one of two ways.
First, after a student creates a profile (which takes a couple of minutes), the system uses an algorithm to suggest alumni matches who have similar interests. The matching is not unlike how Netflix recommends movies based on the user's watching history or Amazon suggests items to buy based on the user's purchasing history.
Students can also easily search for alumni matches themselves. They can search for alumni by applying filters, including by company, job title, industry, and geographic location. With over 600 alumni in the system, even if students cannot find a direct match for their interests, there's a good chance the alumnus can refer them to a colleague.
Students can also use the platform for quick exchanges with alumni. Contacting alumni for questions that can be answered in short order — like resume reviews or interview tips — is encouraged.
"The important thing for students to remember," Murrell says, "is that the alumni want to hear from you. Every one of them signed up on their own because they remember what it was like being a student and want to help."
Pathways Into Dream Jobs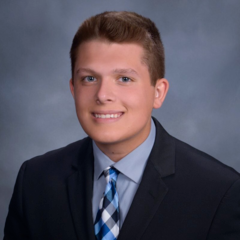 Matt Gary (Junior – Business Information Systems & Marketing) signed up for Mentoring Match because he was looking for an edge to break into the sports industry.
His dream job is to work in the National Basketball League. So he connected with Katie Hazelbach (BSBA '15), a partnership activation executive at the Minnesota Timberwolves and Lynx in Minneapolis, Minn.
"She gave me great recommendations on classes to take, professors to talk to, and which sports conferences to attend," Gary says.
Hazelbach also shared her professional contacts. She put Gary in touch with a colleague at the NBA league headquarters in New York City. That gave Gary, who at the time was interning for the ACC Network at the University of Pittsburgh, an inside track to the highly competitive NBA summer internship program.
Hazelbach says she was delighted to help Gary, as well as the other students who have contacted her.
"Alumni are excited about the program. We really want to help," Hazelbach says.
Help from a caring alum was same the experience that Kara Hoke had in Mentoring Match.
Shortly after graduating with a concentration in marketing, she reached out to Zach Pasquarelli, for help breaking into the entertainment industry.
Pasquarelli (BSBA '07) is the Executive Director of Film Distribution for Paramount Pictures in Los Angeles, Calif.
Hoke says that Pasquarelli, who is responsible for placing his company's box office hits in theaters in Seattle, Portland, and Minneapolis, was friendly and not the least bit intimidating.
"He really gave me some good pointers on what people are looking for in the industry," Hoke says.
Those pointers paid off. Hoke soon landed a job at Lionsgate Pictures. She works in the Santa Monica office as a box office assistant.
As the experiences of Leatherow, Gary, and Hoke demonstrate, Pitt Business students have made meaningful connections with alumni through Mentoring Match. The connections also yielded fruitful employment outcomes.
"If there is one thing holding Mentoring Match back, it's that not every student is using it," Murrell says.
"Mentoring Match is an absolute game-changer for students. Alumni love to pay it forward, and there's no better ticket to go From the Classroom, To the City, To the World," Murrell says.
Learn More
Watch our Mentoring Match video to hear from students and alumni about their experiences in using the program.