For those about to rock, Mike Claricurzio salutes you. The Pitt Business junior (Finance and Marketing) recently turned his passion for music — of all genres — into business internships with the 2018 Hangout Music Festival in the Alabama Gulf Coast and Ticketmaster in London.
"The reason I chose business as my major is that I like music but can't play any instruments. I like solving problems, and as weird as it sounds, I like being in the office," says Claricurzio, who alternates between business clothes and his black Sub Pop Records T-shirt.
This past May, he spent two-and-a-half weeks as an intern for the Hangout Music Festival on the white sand beaches of Gulf Shores, Ala. The three-day festival may not be a household name yet but it's musical arts certainly are. The 2018 headliners of the 50+ acts included The Chainsmokers, The Killers, Kendrick Lamar, Logic, Foster the People, Greta Van Fleet, the Cold War Kids, and St. Vincent.
Claricurzio received financial support through the Pitt Business James B. Tafel Summer Internship Program to support the internship.
The Chance to Learn From the Best in the Industry
During his internship, Claricurzio did a little bit of everything. He helped with the early event setup, created a merchandise log for inventory sold at the main tent, and verified the bookings of flights and lodging for the musical arts. Due to his interest in media, he also worked on promotions.

"I definitely think the business aspect helped me with Excel and managing the merchandise," Claricurzio says.

The internship was demanding. Long hours and unforeseen challenges were the norms. Not that Claricurzio minded it.

"I remember being there for two-and-a-half weeks, and it felt like a day. I woke up every morning with the energy to run a marathon," he says, adding that it was when problems happened that "he learned the most."

Indeed, Claricurzio stood out from his fellow interns early on.
When submitting his job application online, he submitted a four-page response to a question about ideas to improve the festival. His idea? A plan to increase merchandise sales via micro-targeting and geofencing the based on the guests' proximity to the different performers.

"I treated the job application like I would a case competition," Claricurzio says.

Backstage access and proximity to current musical icons was a highlight of the internship experience. So was the opportunity to learn from and soak up knowledge from music industry veterans, including the festival director with whom Claricurzio worked with on a regular basis.

"It was awesome, I got to learn from some of the best in the industry," Claricurzio says.
Crossing the Atlantic for His Second Internship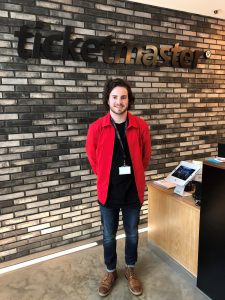 Memorable as the festival experience was, it was just the start of his summer.

In July, Claricurzio traveled to London, England for an extended study abroad experience in the Pitt Business Global Business Institute. Through a family connection and proactive interviewing/planning, he had secured a digital marketing internship with the Ticketmaster London office, which is the headquarters for European operations.

"I did performance marketing, pay-per-click, and affiliate marketing. From week one, they had me building PPC campaigns for tours, and I had to monitor the bidding price, change the locations if the tour stops sold out," he says.

Living in London was also a valuable cultural experience, for it changed the way he saw the world and enlarged his understanding of the myriad cultures that shape a global city like London.

"It was definitely life-changing," Claricurzio says.
The Impact of Student Organizations

While much of Claricurzio's success is due to him taking his own initiative, he credits Pitt Business for putting him in a position to succeed. His decision to live in the Bruce Hall Living Learning Community for Business first-year's changed the course of his college career.
"On day one, I met a few brothers in Delta Sigma Pi. Since then, that has shaped my college experience and where I am professionally," he says.
From help with resume reviews to guidance on opportunities for student engagement, Claricurzio has benefitted from his membership. "Being surrounded by people who are driven and motivated makes it impossible not to do it yourself," he says.

Claricurzio will serve as Delta Sigma Pi president until April 2019. His goal is to pay it forward with the help that he received.

So what's on Claricurzio playlist?

Pinning him down to a single genre is difficult. His favorites include rock giants across the generations, from Led Zeppelin and the Beatles, to the Foo Fighters, Pearl Jam, The Red Hot Chili Peppers, and up-and-comers like Greta Van Fleet.

"I like all the great music that shaped genres," he says, adding that he will go see live music of any genre.
In the future, Claricurzio plans to pursue a business career in the music industry. His interests include promotions, festivals, and touring. The two internships from this past summer, combined with his business degree, will give him a leg up — even if it won't guarantee that his background won't raise a few eyebrows from colleagues.

"In the business school, I'm the oddball because I want to work in music, and then when I show up to music things, I'm the oddball because I'm in business," he says.