The University of Pittsburgh College of Business Administration is the #2 public business school in the nation for "Getting Grads The Jobs They Want," according to a new ranking by Poets & Quants, a leading publication for undergraduate business schools.
The ranking is based on an alumni survey from nearly 100 business schools nationwide. Alumni were asked whether they found work within three months after graduation in their desired industries and for their desired companies.
With an employment rate of 97 percent, Pitt Business earned the second highest ranking of public business schools and the fourth highest ranking of all business schools.
Pitt Business had a higher employment score than Wharton, Virginia, Notre Dame, Indiana, Georgetown, New York University, Boston College, and Carnegie Mellon.
"I'm extremely proud to see Pitt Business recognized as helping 97 percent of its graduates get the jobs they want. This is one of the most important measures of return on investment," says Audrey J. Murrell, associate dean of Pitt Business and director of the David Berg Center for Ethics and Leadership.
"Our business school is unique because our mission is to take students From the Classroom, To the City, To the World. The transformative nature of this journey ensures that our students are prepared to find whatever job they are seeking after graduation," Murrell says.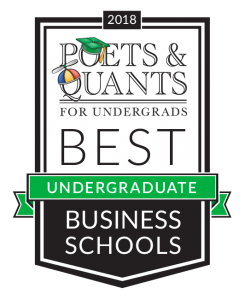 More than 500 companies have hired Pitt Business students, including Amazon, Google, Boston Consulting Group, Goldman Sachs, Johnson & Johnson, Lockheed Martin, McKinsey & Company, Microsoft, the National Football League, Walt Disney, and JPMorgan Chase & Company.
In an analysis of its ranking, Poets & Quants singled out Pitt Business for providing its Mentoring Match platform to connect students and alumni for one-to-one career mentoring:

So what are they doing right at Pittsburgh? Boasting a "globally focused curriculum and exceptional career development support," Pitt's innovative "Mentoring Match" program allows alumni to offer career advice and networking support to business students; more than 500 alumni from around the world have signed up to help current students, connections that help take Pitt students "from the classroom, to the city, to the world."
Innovative Career Development at Pitt Business
The portfolio of career development programs at Pitt Business leverages the school's urban location in the City of Pittsburgh.
The Mentoring Match Program

allows students to connect one-on-one with alumni mentors for networking and career support. Students can search for alumni matches by industry, job function, company, and geography.




The James B. Tafel Summer Internship Program

gives students the opportunity to select from a pool of internships with leading Pittsburgh companies.




Global internship opportunities

exist through our International Internship Program and Global Business Institute programs. More than 22 percent of Pitt Business students complete an international internship, whereas the national average is less than 1 percent.




The Fall and Spring Career Fairs

give students the opportunity to meet and interview with more than 100 employers. The fall event, held at the David L. Lawrence Convention Center downtown, is the largest undergraduate business school career fair in Western Pennsylvania.




The Strengths-Based Advising Model

at Pitt Business ensures that students can work with the same advisor in every year of college. The advising support that they receive is based on the CliftonStrengths assessment tool that is used by thousands of companies worldwide in their people development programs.