For the second year in a row, the University of Pittsburgh College of Business Administration was ranked the #11 public university in the country and the #1 public university in Pennsylvania in the 2018 "Best Undergraduate Business Schools" report by Poets & Quants, a leading website for business education programs.
Pitt Business also set a new milestone, breaking into the top 25 of all business schools, by climbing to No. 23 in the country.
The comprehensive ranking — which covers admissions, career outcomes, faculty quality, and alumni perceptions — gave Pitt Business exceptionally high marks in academic advising, career preparation, teaching quality, extracurricular programs.
Pitt Business received the highest score for academic advising of any school. Pitt Business also had the highest score of public business schools for offering a "life-changing" experience for its students.
"Pitt Business ranked, once again, as No. 11 among its peer public business schools, which is a strong endorsement of it being one of the nation's top business schools," says Audrey J. Murrell, associate dean of Pitt Business and director of the David Berg Center for Ethics and Leadership.
"I am particularly proud of our alumni response. Across all categories, they gave us the fifth-highest score of any public school. It's evident that our students are benefitting from our school's unique mission of taking students on a journey From the Classroom, To the City, To the World."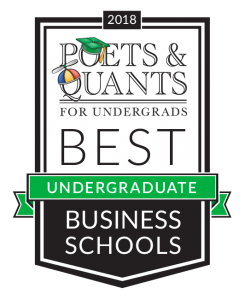 In the ranking, Pitt Business outpaced Penn State, Ohio State, Maryland, and Boston University. Pitt Business performed well on the strength of its alumni
In addition to the Poets & Quants ranking, Pitt Business is highly ranked in other leading publications. Pitt Business is ranked No. 24 among public business schools and No. 39 overall in U.S. News & World Report. Pitt Business is also ranked No. 4 among public business schools by corporate recruiters in Bloomberg Businessweek.
Murrell says Pitt Business is "driven to innovate" across the academic, career, and global space. For example, the school has created Mentoring Match to connect students with over 600 alumni from across the country who want to offer career and networking support.
"Our students' journey starts in the classroom, and it continues with our incredible proximity to leading businesses through our urban Pittsburgh advantage and our deep support of programs that develop students' global competence," Murrell says.
Poets & Quants Ranking Highlights
The Poets & Quants ranking is weighted based on admissions metrics, career outcomes, and an alumni survey that covers various areas of student satisfaction.
Life Outcomes
Life-Changing Experience – #1 of public business schools
Helped Attain Dream Job – #3 of public business schools
Helped Climb Status – #4 of public business schools
Advising
Academic Advising – #1 of all business schools
Career Advising –  #6 of public business schools
Career Development
Improvement of Skills – #2 of public business schools
Career Preparation – #3 of public business schools
Access to Professionals – #5 of public business schools
Employer Connections – #6 of public business schools
Faculty
Teaching Quality – # 2 of public business schools
Mentoring Support – #2 of public business schools
Availability for Informal Discussion – #3 of public business schools
Alumni Support
Overall Alumni Survey – #5 of public business schools
Alumni Connections – #8 of public business schools