For the third year in a row, the University of Pittsburgh College of Business Administration was ranked as a top-15 public business school in the country and the #1 public business school in Pennsylvania in the 2020 "Best Undergraduate Business Schools" report by Poets & Quants, a leading website for business education programs.
Pitt Business ranked #30 overall in the country and #12 among public programs.
The comprehensive ranking — which covers admissions, career outcomes, faculty quality, and alumni perceptions — rated Pitt Business exceptionally high in academic advising, career preparation, teaching quality, and extracurricular programs.
"Our top-15 ranking solidifies that Pitt Business is one of the nation's top business experiences for undergraduate students," says Anthony F. Rodi, interim associate dean of Pitt Business.
Pitt Business alumni ranked the program as the #1 school for assisting alumni find employment with their targeted company upon graduation. Overall, Pitt Business outpaced Ohio State, University of California-Berkley, Michigan State University and the University of Georgia.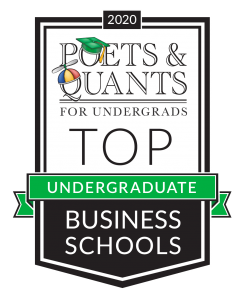 "I am particularly proud of the consistency in our alumni response," says Rodi. "Across all categories, we have landed in the top ten the previous two years of any public school. It's evident that our students are benefiting from our school's unique mission of taking students on a journey From the Classroom, To the City, To the World."
In addition to Poets & Quants, Pitt Business is ranked #20 among public business schools and #31 overall in U.S. News & World Report. Bloomberg Businessweek ranked Pitt Business #4 among public business schools by corporate recruiters.
Poets & Quants Ranking Highlights
The Poets & Quants ranking is weighted based on admissions metrics, career outcomes, and an alumni survey that covers various areas of student satisfaction.
Top 10 Public Ranking in These Categories:
Life Outcomes
Helped Attain Dream Job – #2
Life-Changing Experience – #8
Helped Climb Status – #7
Advising
Academic Advising – #3
Career Advising –  #10
Career Development
Career Preparation – #6
Improvement of Business Skills – #8
Employer Connections – #6
Faculty
Mentoring Support – #7 
Availability for Informal Discussion – #10
Alumni Support
Overall Alumni Survey – #7 
Alumni Connections – #10