Professor Ray Jones Receives Chancellor's Distinguished Public Service Award
Ray Jones, Clinical Professor of Business Administration, Mehta Family Faculty Fellow, and Director of the David Berg Center for Ethics and Leadership, has been awarded the Chancellor's Distinguished Public Service Award. The Chancellor's award annually recognizes outstanding public service contributions by members of the University of Pittsburgh's faculty.
Widely recognized for his excellence in teaching, Jones has been voted "Best Professor" a record-breaking eleven times by The Pitt News. He is a recipient of the Chancellor's Distinguished Teaching Award, a co-recipient of the Provost's Diversity in the Curriculum Award, and a perennial recipient of the Excellence in Teaching and Excellence in Service Awards from the College of Business Administration (CBA).
For more than 20 years, Jones has used business education as a force for social good, instilling values of ethics, strong partnerships, and leadership in thousands of undergraduate, graduate, and executive students at the University of Pittsburgh.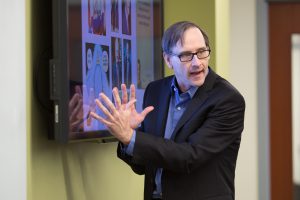 Jones is the co-creator and faculty coordinator of the Certificate Program in Leadership and Ethics (CPLE) at CBA. As the only program of its kind in the country, CPLE offers undergraduate business students meaningful and experience-based exposure to ethics and leadership in a variety of organizational settings, including non-profits and government agencies.
Jones seamlessly connects CPLE students to meaningful service-learning and internship opportunities at ethically-focused organizations, both regionally and internationally. His students focus on addressing an organization's business concerns and developing a strategic business plan, in order to make the organization more capable of achieving positive social change in the community.
"The power of CPLE initiatives drives a greater impact than simple volunteerism," says Jones. "CPLE students are motivated to get out across campus and in the community and make a difference through their class projects and internships."
Since its creation in 2004, Jones' students have completed countless social responsibility projects for over 100 ethically-focused organizations, contributed nearly 23,000 hours of service through class projects, and more than 38,000 internship hours. In total, Jones has trained nearly 350 CPLE graduates across all business majors, who now exemplify ethical leadership within their own organizations. In a given semester, Jones oversees 15-20 CPLE projects ranging from small businesses to university partners to community organizations, which makes him a visible presence in the Pittsburgh region.
"I have had the pleasure of meeting some of our most successful graduates and alumni from recent years," explains Arjang A. Assad, Henry E. Haller, Jr. Dean. "Invariably, they have been CPLE students and take pride in referring to the impact the program has had on them. Many go on to add the valuable advice they received from Ray that persisted beyond their graduation."
Jones has an endless list of involvement in public service, both within the University of Pittsburgh and in his personal life. Whether he is coaching fourth-grade boys' basketball at Blessed Trinity Academy in Glenshaw, teaching genetic genealogy at the Carnegie Libraries, or hopping on an international flight with a group Pitt Business students, Jones' dedication to long-term community partnerships is ever-present.
"Our school would be hard-pressed to find another professor more humble and committed to service-learning than Ray," says Tony Rodi, Interim Associate Dean of CBA. "Thanks to his efforts, our institution has become a globally recognized leader in the domain of ethical leadership education."