In the fashion world, behind the artistry and aesthetics of every successful runway show is a solid business plan.
Two students from the University of Pittsburgh College of Business Administration — Evonna Ranade (Marketing – Junior) and Kailey Clapp (Marketing and Supply Chain Management – Junior) — observed this industry truth in the most sought-after of environments: at New York Fashion Week.
In September, they traveled to the Big Apple as part of a fashion business program offered by the IMG College Licensing and IMG's fashion events division. The national program accepted 22 students from 15 universities that were interested in learning more about the business side of fashion. During a long weekend, Ranade and Clapp went on several company site visits — including to the offices of Champion, Macy's, and G-III Apparel Group, Ltd. — for networking and job shadowing with industry leaders. They also had backstage access to the glitz and glamor of New York Fashion Week runway shows by Self-Portrait and ICY Presents: Supernova.

"New York Fashion Week is very exclusive. You can't just buy a ticket," Clapp says.

Their New York City experience was funded by the Pitt Business James B. Tafel Endowed Internship Fund. The Tafel scholarship supports unpaid internships and student professional development experiences.

"I'm so grateful that Pitt Business gave me this opportunity. It was a very well run program by IMG," Ranade says.
In her trip to the New York City design offices for the Champion brand, Ranade saw how much work goes into selecting designs for athletic apparel. She visited the company's archive room, which has close to a hundred years of history in the evolution of the brand's designs.
"I want to work more in the business end of the fashion industry. This program was good for networking. I met a lot of people and got some more exposure," Ranade says.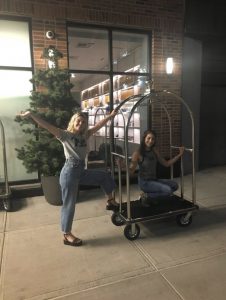 While Ranade was at Champion, Clapp visited the corporate offices of G-III Apparel Group, Ltd., whose portfolio includes Calvin Klein, Tommy Hilfiger, DKNY, and Starter. She was one of only four students on the site visit, which made for a more intimate setting. The students were able to sit in one a meeting in which the representatives from DKNY discussed a new collection with Major League Baseball.
"I saw the collection and prototypes for the LA Dodgers. I was able to learn about the design side and the business side, what must happen for financial stability and sales," Clapp says.
Both Ranade and Clapp are members of the Pitt Business Fashion Business Association. The student organization provides opportunities for professional development, social activities, and community service.

Ranade, as the vice president of professional development, is responsible for bringing in guest speakers. Pittsburgh may not be widely known for its fashion industry, but the area is home to many large companies including American Eagle Outfitters, DICK's Sporting Goods, and Rue 21. Additionally, the online retailer ModCloth was founded in Pittsburgh and has most of its workforce in the area.
Both Ranade and Clapp were invited to apply for the New York Fashion Week program by Pitt Business Student Engagement Manager Lindsay Crouse.
The New York runway shows were a highlight of the trip. They were given backstage tours to observe the production and execution of a high-end runway show.
"It was crazy," recalls Clapp. "There were lots of social media influencers, celebrities, and press taking pictures. Right before the show starts, it's a madhouse. Everybody has their phones out. Then it's dead silent except for the music. There's no cheering until the end for the designer."