Two Pitt Business Professors Receive National Best Professor Awards by Poets&Quants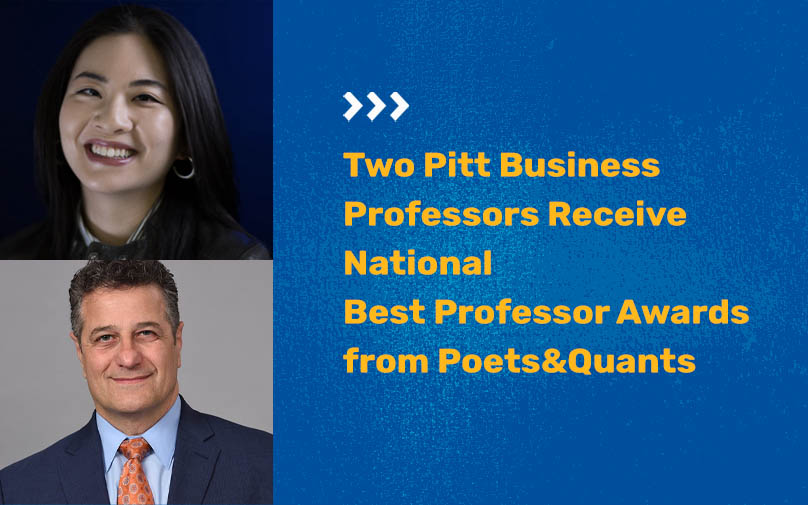 Two professors from the University of Pittsburgh College of Business Administration, Peggy Liu, Assistant Professor of Business Administration and Ben L. Fryrear Faculty Fellow, and Anthony Rodi, Clinical Associate Professor of Business Administration, were named to the Poets&Quants 2020 Top 50 Undergraduate Business Professors awards list.
This recognition for excellence in teaching is given to only 50 professors annually at business schools across the globe. Nominated by students, faculty, and administrators, this year's list features professors from 33 of the world's best undergraduate business programs.
Liu is noted in her interview with Poets&Quants for having nearly 1,000 Google Scholar citations at just 30 years old. Despite her age, she has built a robust body of research and an extremely impactful early teaching and research career.
"Peggy has distinguished herself as an impactful thought-leader in the fields of marketing and consumer behavior," says Jeff Inman, Associate Dean for Faculty and Research. "She is frequently referred to as a 'rock star' by her colleagues and peers. She is an equally gifted teacher and a solid citizen in terms of service."
Liu has won the Katz Excellence in Research Award the past three years and the Katz Excellence in Teaching Award two of her four years at Pitt Business. In addition, Poets&Quants determined Liu as one of their most popular professors to make this year's list, with over a dozen nominations submitted.
"My favorite part about teaching our undergraduate business students is when we spend time in class working on application projects, which involves applying the theories we've learned to real-life problems, often faced by local businesses," says Liu. "The students come up with very interesting applications as well as critiques of different applications."
After spending decades in industry, Rodi began teaching part-time and decided to pursue his passion by transitioning to full-time teaching. Now with over 17 years of higher education experience, he teaches a variety of courses around information systems at the undergraduate, graduate, and executive levels, with expertise in remote and blended delivery.
Rodi, who has received multiple teaching awards during his time with Pitt Business, was most recently awarded the Excellence in Teaching Award for the 2019-2020 school year. He has served in a wide-variety of leadership roles throughout his tenure and has been at the forefront of new course development. He launched an elective course at the undergraduate level focused on information systems ethics, developed and launched one of the pilot blended courses for the Professional MBA program, and developed and launched an inaugural course for the Executive MBA in Healthcare program.
Not only is he well-known as an incredible teacher, but as a friendly face in the halls of Sennott Square. During his year as Interim Associate Dean of Pitt Business, Rodi dedicated time each week to meet with students as a way to get to know the business students, answer questions, and offer career advice.
"Professor Rodi has made an unparalleled impact on the educational and professional careers of many students through the real-world industry insight he incorporates into his classes," a former student told Poets&Quants. "I enrolled in one of his courses at the recommendation of a Pitt alumni, who credited success in his own early career to the passion and enthusiasm Professor Rodi brought to teaching. On my first day of class, Professor Rodi promised our student cohort that he would get to know each of us and was available to help us become future business leaders, whether we needed assistance with course content or advice related to securing an internship or job. In fact, I utilized content I learned in Professor Rodi's class in a final round case study interview, which then resulted in landing my dream summer internship!"
Pitt Business was one of only 11 schools to land more than one professor on the Poets&Quants Top 50 list.
"I am very proud of Professors Liu and Rodi for being recognized by Poets&Quants as two of the world's best undergraduate business professors," says Arjang Assad, Henry E. Haller Jr. Dean. "This honor brings great pride to our school and just confirms the hard work and dedication that Peggy and Tony bring to Pitt Business, and most importantly to our students."
Read more from Poets&Quants full interviews with Liu and Rodi.